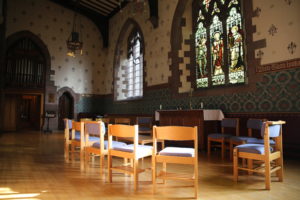 Sacred Space for Lent 2022
Join us in church every Wednesday at 11am during Lent for a short, informal act of worship, an opportunity for quiet reflection and Coffee and Cake. All are welcome.
Wed 2 Mar Ash Wednesday communion with Imposition of Ashes
Wed 9 Mar Creative Space – Taizé style worship for quiet reflection
Wed 16 Mar Sacred Space – prayer stations, silence and labyrinth
Wed 23 Mar Creative Space – words and music for Mary and Martha
Wed 30 Mar Sacred space – prayer stations, silence and labyrinth
Wed 6 April Creative Space – The Good Shepherd
Wed 13 April Sacred Space for Holy Week – time to reflect together
Come and join us for an hour on Wednesdays at 11am. We will experience different ways of worshipping together as we prepare during Lent and Holy Week for Easter. Would you like to use this time to be quieter and more thoughtful, more open to God's desire, more attentive to scripture, more compassionate and more courageous about God's will for us as individuals and for our congregation?
Every week during Lent, we will use different ways of praying with music, storytelling, silence, prayer and communion with Ashes, followed by conversation, coffee and cake.
For more information email rector@stpj.org.uk.
More information about other Holy Week and Easter services will follow shortly.